Municipal Solid Waste (MSW) is one of the largest waste streams being generated in almost any country. Arguably, source separation versus separation after collection is one of the most discussed topics when it comes down to the processing of MSW.
Depending on the development of a country, the amount of organics in the MSW ranges between 30-70%. Even though a lot of effort, labour, energy and resources are required to produce and distribute these organics (i.e. food), these organics often find their way to landfills or incineration at the end-of-life. The reason for this is that they are often to polluted for further recycling.
What if these valuable organics could be retrieved, and put to better use to more efficiently create gas or electricity? Or even used as feedstock for insect breeding farms?
Also read: Turning mixed waste into energy: Separate organics from solid and fibrous waste
A smart and energy efficient segregation technique
To answer this question, Royal Dutch Kusters developed a new smart organic waste segregation technique that optimizes the processing of waste contaminated with organics. Based on trusted high-pressure technology used by Kusters for over 35 years, it has developed the Organic Liquefying Press, allowing the user to separate organics from solid parts in a smart and energy-efficient way.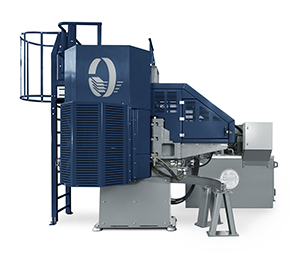 The self-learning press automatically adapts its' settings to optimise the output and reduce energy consumption. Using this system, the press generates the best output possible, while adding value to processing organic waste as the biogas potential could increase by almost 30%. Simultaneously, the solid fraction can be used for further recycling or as an alternative energy source.
With a capacity of 18-20 m3 per hour, the OLP suits medium to large scale operations and can easily be integrated into existing waste processing lines.
Interested in learning more about this technology? Download our brochure or subscribe to this blog to get regular insights and inspiration to grow your waste processing business.