When destroying banknotes, both on- and off-line, a reliable solution to efficiently transport and collect the shreds is important. Especially in case several banknote sorters are connected to a central briquetting system for banknote shreds. In this case, any hold of the briquetting system must be prevented as this would automatically result in a hold of the banknote processing operation. In this article we discuss the handling of shreds of unfit banknotes.
Shred size and shape
Depending on off-line or on-line destruction, banknote shreds will differ not only in size but also in shape. Shreds generated by on-line shredding have a typical and uniform rectangular size of approx. 2-3 x 10-15mm, while off-line shreds have an at random shape. Because of the shape the shred density of off-line shreds will be higher compared to on-line shreds.
Although there may not be an official world-wide standard for the shred size for off-line destroyed banknotes, the most common used shred size is 6 x 6 mm. When using granulating technology the shred size output can be adapted depending on the required shred size.
For shredding technology, the shred size is determined by the knives settings as where for the granulating technology it is additionally guaranteed by using a classifying screen with a specific hole size which prevent larger shreds passing through.
The shred handling process

1) Shred extraction
In general the shreds are extracted from the destruction systems or sorters by means of a vacuum system. The configuration of such a vacuum system depends strongly on the local situation and the number of sorters to be connected. Some Central Banks have up to 20 sorters connected to one central briquetting system.
2) Shred collection
Shreds can be collected in loose form but for significant volume reduction of the waste material, briquetting systems are commonly used by Central Banks.
3) Shred compacting
Briquetting systems separate the shreds from the transport air and compress the shreds into manageable briquettes. The transport air is cleaned by filters before emitting to the outside. Some briquetting systems are equipped with dust extraction systems to remove any dust from various positions in the briquette production and discharge process. All this resulting in a clean and dust-free operation.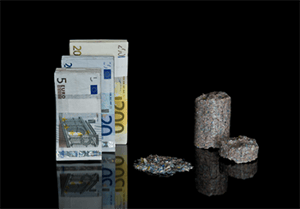 Have you become interested in shredding type solution for banknotes? Or would you like to know more about the process behind our banknote destruction systems?
You can also check out our page on shred handling or contact one of our experts.
If you would like to stay up to date with the latest insights in unfit currency management, subscribe to this blog at the top of the page for regular updates.