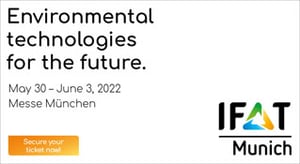 Royal Dutch Kusters Engineering will be present at the IFAT Münich 2022 which will take place from 30 May - until 03 June
Are you looking for water, sewage, waste and raw materials management? Then IIFAT Münich is the trade fair for to be. This event has 3305 exhibitors from 58 countries and regions and does attract more than 140.000 visitors. During all days you can attend several live demonstrations, solution tours and several forums.
Royal Dutch Kusters Engineering is a proud exhibitor at IFAT München 2022 and we will present our waste processing solutions there. You can see our Organic Liquefying Press in real live and also we have a scale model of our newest Rotoshifter. The Organic Liquefying Press is a smart organic waste segregation system which separates the organic fraction from mixed household waste. The Rotoshifter is an innovative solution to sort various materials based on differences in form, density, and size. It separates mixed waste materials into multiple waste streams.

The team of Royal Dutch Kusters Engineering hopes to meet you there and we can show your our solutions! You can visit us in Hall B5, stand 500.
IInterested visitors can sign up on the event website.