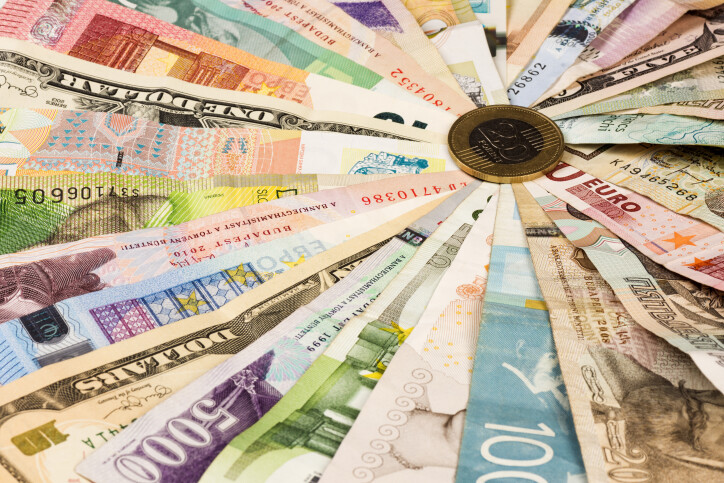 In recent months, Royal Dutch Kusters Engineering has conducted a survey among Central Banks and Printing Works worldwide. The investigation related to the method of disposal of the unfit banknotes once these have been removed from circulation and are destroyed. The big question is what is done with these shreds because there are several methods of disposal. We would like to update you on the results of this survey in this blog.
Kind of banknotes
Method of disposal
Sustainability
Recycling solutions
Kind of banknotes in circulation
The shredded banknote recycling process is often arranged depending on the volume of the banknotes, if these are shredded centrally or decentrally, the maturity level of local recycling markets and last but not least important the wide variety of notes in substrates, inks and security features. The re-use of shredded and briquetted banknotes, continues to be done worldwide in various ways. There isn't an overall policy or solution what to do with these shredded banknotes, each country has a different approach. That also depends on regulations, circumstances, costs and options as well as which type of banknotes there is. For example pure polymer, cotton or composite banknotes or a mix of these.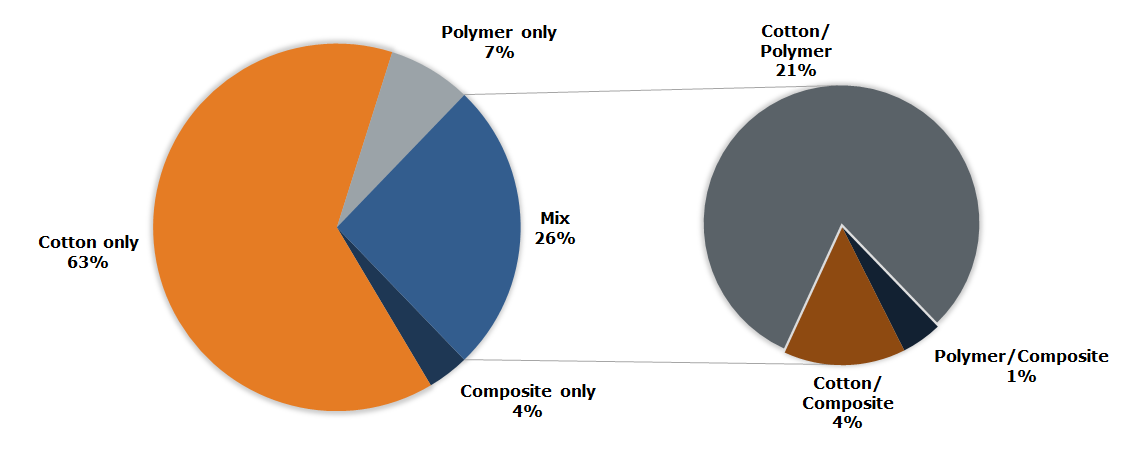 In total 82 countries took part divided among 6 continents. 97,2% of the participants were Central Banks. As you can see in the pie chart below most of the Central Banks have only cotton banknotes in circulation and a rather small percentage only polymer or composite. If there are mixes the bigger part has a mix of cotton and polymer.
Method of disposal
In the chart below you can see the top 4 of the method of disposal per substrate. This figure gives the exact numbers. As you can see still most of the banks use landfill and burning. The outcome of the banknote survey illustrated that currently 75% of the central banks dispose their banknotes in landfill or burning.

Dumping in landfills does not recover any energy and cannot be said to serve any useful purpose whatsoever. More than the other ways of disposal this method must bear in mind several criteria before it can be disposed like security, technical, economical, and environmental issues. Therefore, a reliable method for disintegrating currency is important. The environmental issues with dumping banknote shreds in landfill lead us to recommend avoiding this as a solution.
Burning the banknotes and do not use them as a source for energy is the least environmentally friendly way of disposal. Unfortunately, also this method is still used many times because of convenience, lack of infrastructure and it's relative cheap.
In the bar charts below you can see how cotton and polymer is disposed per continent. Great to see as well that there is growing conscious for sustainability in general and also quite some Central Banks already use burning with energy recovery, composting and some are recycling.
Cotton disposal per continent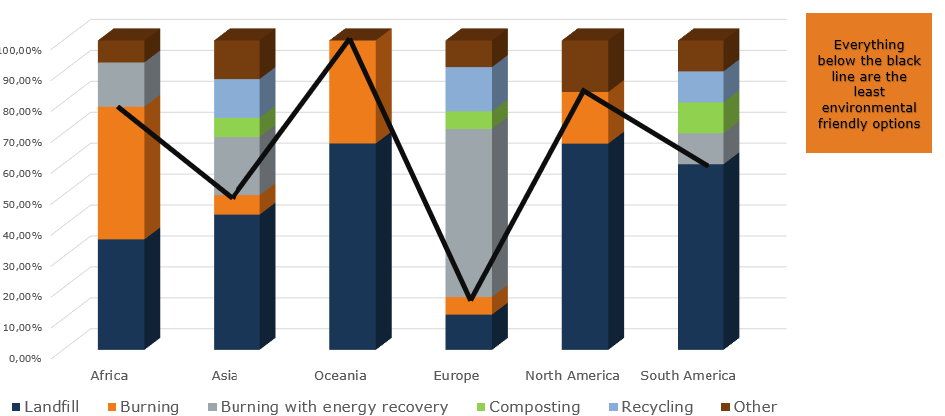 Polymer disposal per continent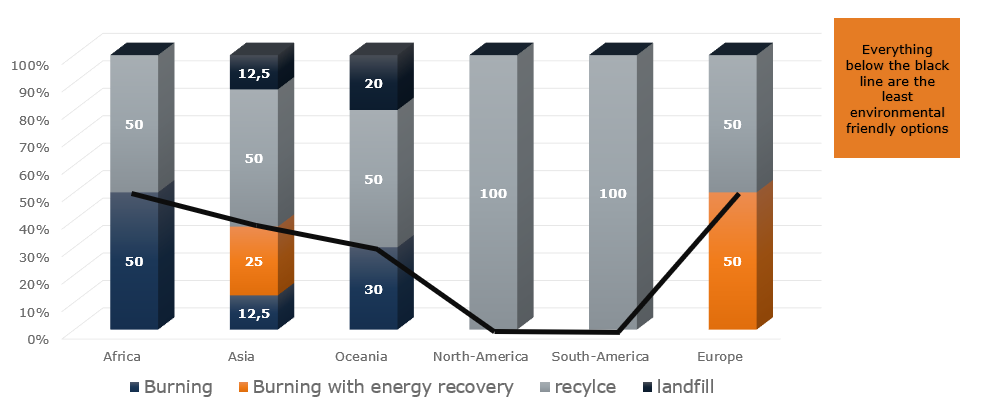 Would you like to receive the complete report regarding the Banknote Recycling Study November 2022? Click on the link below.
Sustainability
Regarding sustainability the outcome is that it is getting more awareness but it's often not implemented throughout the organization. 2/3 of the participants of the survey didn't considered to change their current method of disposal, but on the other hand the interest to outsource the disposal by recycling unfit banknotes was quite high (72%). Even 50% of the participants would like to pay more for a sustainable method of disposal.
The goal of Royal Dutch Kusters Engineering is to bring the industry together to contribute to a more sustainable cash cycle, in which the secure destruction and re-using is an essential part. Our goal is to give unfit banknotes a second life so they can be part of a circular economy so that the life cycle of banknotes is extended. So eventually offer complete durable solutions made out of 100% cotton or polymer banknote shreds.

Recycling solutions for unfit cotton and polymer banknotes
During the Cash & Payments Sustainability Forum in Edinburgh we also presented the latest developments to recycle unfit banknotes for cotton as well as polymer shreds. For example you can make high quality furniture, 100% made out of polymer shreds. And shredded unfit banknotes can be used as a source to product board panel of high quality, also a mix of 100% recycled material.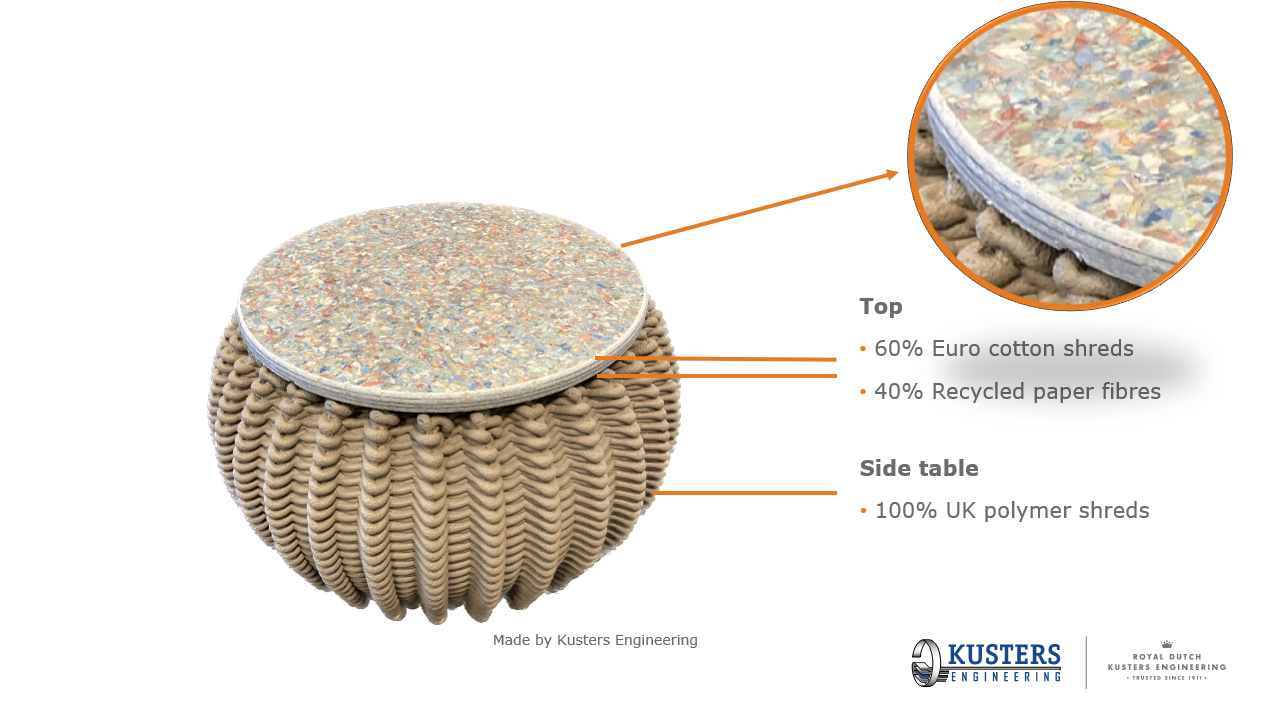 It's challenging to destroy and recycle unfit banknotes in a proper way, because of the fact that more countries nowadays have 2 or more substrates in circulation. But with some minor adjustments these can be handled also in a secure way. Want to read more about this topic then read this blog.
Would you like advice from Royal Dutch Kusters to see how your unfit banknotes could be recycled into new products? Then please request for a free consult with our specialists to discuss the possibilities for re-using shredded banknotes.

What does the ideal future look like?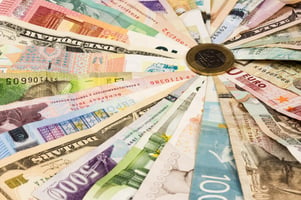 Hopefully one day we can roll out the circular economy with regard to banknotes, whatever type of banknotes is used. Hopefully one day we will be able to claim that shredded banknotes have become part of a circle with no loose ends, a real circular economy. The ambition of Royal Dutch Kusters Engineering is to bring the industry together to contribute to a more sustainable cash cycle, in which the secure destruction and re-using is an essential part.
Discover our currency destruction solutions
Royal Dutch Kusters Engineering is the world's leading manufacturer of currency destruction equipment. We design, develop, deliver, install and service reliable and secure destruction solutions for all types of banknotes.
If you want to know more about our upgrade solutions to handle polymer banknotes, please download our leaflet: 'From cotton to polymer'.
Keep informed on the latest insights and subscribe to our blog.